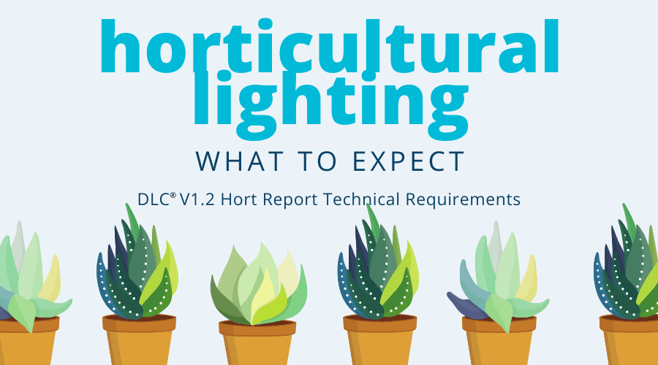 Review of DLC® Version 1.2 Hort Report technical requirements and what to expect.

In the latest update to its Testing and Reporting Requirements for Horticultural Lighting to Version 1.2, the DesignLights Consortium® made changes to support the industry transition from traditional lighting data and metrics to horticultural lighting data and metrics. This is a change that the DLC has been planning for and it allows for better representation of horticultural lighting performance. The effective date is October 21, 2019.


Revision to the Flux Maintenance policy:
As per the DLC® V1.2 Hort Report Technical Requirements:
As previously described in past DLC horticultural program revisions and on the DLC website, the DLC will begin requiring flux maintenance data denominated in horticultural-specific units, and will no longer accept lumens or radiometric watts LM-80 or LM-84 reports starting on October 21st, 2019. The DLC has been in close contact with LED device manufacturers, and is confident that the industry is prepared to transition away from legacy performance extrapolation data denominated in humanvision terms.
Products which have previously been approved and listed with legacy terms will remain temporarily qualified and listed on the DLC's Horticultural QPL. Those which used non-PPF terms, and did not provide a static conversion factor to PPF terms, will be asked to provide updated PPF-based information in the period from October 2019 to April 2020. Any product that does not provide this updated flux maintenance information will be delisted in April 2020. All QPL listing updates are scheduled to take place at the end of the update period in April 2020. Manufacturers of products that have been provisionally qualified will be contacted with a means to update their product performance to avoid delisting.
What didn't change:
The DLC originally proposed to require PPID and SQD information in the TM-33 document format but has delayed this implementation by one year because the adoption of software tools with the TM-33 format are not readily available yet.
The DLC had included methodology to allow for DC-powered fixtures to be eligible for qualification. However, the DLC decided not to include this in Version 1.2 based on the feedback they received during the comment period that contended the proposed methodology would not be accurate enough to capture the performance of these products. Thus, DC-powered fixtures will remain ineligible.
That's it for now!
Sources:
View the technical requirements here:
See the changes to V1.2 here.