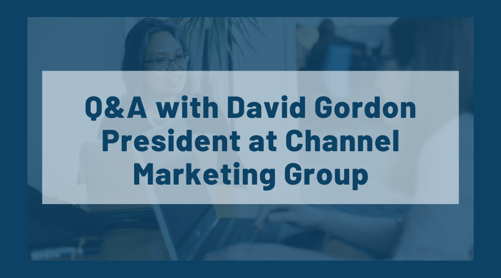 I had the chance to interview David Gordon, the President at Channel Marketing Group. We cover several topics including what he's seeing in the industry within the past few months (COVID-19 related and not), accelerating ecommerce adoption, how some manufacturers and distributors are strategizing for growth opportunities, and more!
David founded Channel Marketing Group in 2001 and he writes for Electrical Wholesaling, TED Magazine, Modern Distribution Management, Industrial Supply Magazine, Supply House Times, plus the Canadian Electrical Wholesaler and a chapter in NAW's Outlook 2009 on Private Labeling.
There's a lot of useful insight, so keep reading!
Thanks for sitting down with me, David. Our readers span the lighting industry and would benefit from your insights, especially this season. Before we dig in, could you provide a brief background on yourself and Channel Marketing Group?
I started Channel Marketing Group 20 years ago after spending 5 years at IMARK Group, the electrical industry's only member-owned marketing group, as VP Marketing & eCommerce, supporting 180 electrical distributors and 100 manufacturers. Prior to that I spent almost 15 years in the performance incentive/marketing industry helping companies in 60+ industries accelerate sales.
Today Channel Marketing Group works with electrical/lighting distributors, manufacturers and manufacturer representatives to accelerate growth by helping them in the areas of strategy, growth initiatives, marketing and market research. We're involved in everything from focus groups to help gain insights to ecommerce strategies; from identifying market size and share to gathering manufacturer rep, distributor and customer insights and more.
Almost 13 years ago we also launched www.electricaltrends.com, which is an electrical distribution industry blog which is followed by about 3,000 people in the electrical channel. On ET we share observations, insights and ideas, inclusive of exclusive research like our recent 4 part series on COVID-19 Electrical Market Sentiment and our quarterly Pulse of Lighting survey. In appreciation for research input, respondents receive a free copy of the reports as a benefit of being an ET subscriber.
What has been your focus over the last few months – both COVID-19 related and unrelated?
Over the past few months, since COVID-19, we've been helping our existing clients in the areas of guidance in addressing the pandemic, managing client performance incentive programs especially as we've transitioned some from travel programs to other strategies, sharing promotional marketing ideas, assisting in development of ecommerce initiatives, launched the 4 COVID studies (mentioned above), and conducting research for a client regarding manufacturer representative perspectives of the client. Additionally, we launched our Pulse of Lighting survey mid-June 2020 and we continue to help NEMRA with their POS initiative.
During this quarter, we had several clients working on strategic planning and converted some of the focus group sessions to virtual ones instead of in person. Even though travel plans have been affected there are still ways to adapt to conduct market research.
What are some general themes you've seen from COVID studies?
Through surveying our audience, we've been hearing themes related to: interest in accelerating ecommerce adoption and deploying ecommerce offerings, we're seeing some hiring coming back given that the COVID decline hasn't been as long-term or severe as feared, to date, and companies are rehiring, distributors are back to work, counters are open and their sales forces are using commonsense on whether to physically or virtually visit someone. There is concern about the longer-term new construction project market. Many feel the renovation market may be the strongest part of the market. Sales overall seem to be improving. Many in the channel are concerned about channel fragmentation and continued consolidation and that COVID may help accelerate this trend.
We're coming off of what appeared to be a very optimistic season of economic growth, are you seeing a shift in tone or attitude about business stability or growth?
The current electrical industry forecasts are down about 20-25% for the year, and the industry should achieve 2019 sales levels in 2022 or 2023. It's expected to be a slow path back due to ability to fund new construction projects. This could be accelerated if the industrial sector rebounds quicker due to on-shoring. Specifically, as it relates to lighting, we've seen the market convert from one driven by new construction to being 50/50 and would expect it to go more renovation/remodeling due to COVID as offices get reconfigured, controls go to contactless or personal and then the interest, and possible adoption of, UVC lighting.
20-25% feels better than some of the early predictions, but still a huge blow to the industry. Do you see any optimism for these organizations? For example, are projects still in the pipeline and it's just a matter of time before they can catch up?
In our most recent survey, about 33% of distributors reported that their backlog is down. Further, June 2020 sales are expected to be off 10-15% vs June 2019 and, as I mentioned before, the year is forecast by DISC to be down further. Our Pulse of Lighting survey will identify Q2 for lighting later this month. Everyone's concern is the dreaded "second wave" for the Fall. No one expects an economic shutdown but it could be very disruptive and industry events are already being cancelled. COVID has also impacted job sites and there are now OSHA regulations for job sites regarding hygiene and social distancing that could impact productivity. This further decreases industry sales due to labor challenges in getting projects completed. Some distributors have reported cancellations; much is delayed at least short-term (meaning possibly 1-3 months), but the concern is what projects are in the pipeline that are funded. The AIA index is currently down from last year and AIA is a forward looking indicator.
Do you have any examples of how businesses are better positioning themselves for a quick return to pre-COVID-19 levels?
Progressive distributors and manufacturers are adjusting to pursue market segments where they feel there will be greater growth opportunities and targeting resources there. Some manufacturers are diversifying sales channels; others are deploying product content to other online sources to capture discretionary business; distributors are doing eMarketing as well as mining their data to identify opportunities; some are developing call centers or allocating resources to outbound calling to develop relationships with accounts that were smaller with them (something they should have done before). The last couple of months have been a scramble for survival, essentially being in reactionary mode, for many. As companies come out of "lockdown" they are assessing longer-term strategies. Some think today is "the new normal," some are thinking more nuanced and asking "what from today will 'stick' once there is a vaccine and 'life goes on'?" There is a combination of both that needs to be considered. Developing new strategies to create, build, retain, and maintain relationships will emerge. Additionally, companies will invest to improve their processes so they can do "more with less."
This has been really terrific, David. Thanks so much for taking the time to connect with us. Before you go, are there any other thoughts you would like to share?
I had a longtime friend, and occasional client, who is in a new C-level role say "I thought I knew much after 4 C-level roles, but I still call you for other insights." My comment was "I've had 150+ roles over the same time because of the number of clients and engagements we've had so we see more." That's the value we bring. Broad exposure, experience, and an array of ideas that can help companies identify opportunities. Coming from an entrepreneurial background, idea generation and a sense of urgency to help accelerate growth is how we can help clients.
David Gordon, President, Channel Marketing Group