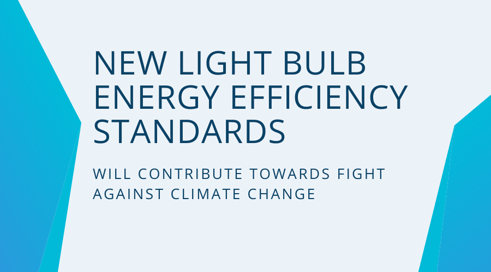 On Tuesday, April 26th, the Biden administration and Department of Energy (DOE) finalized two new standards in relation to light bulb energy efficiency. These standards originally stem from the Energy Independence and Security Act (EISA) of 2007, which states that as of January 1st, 2020 "general service light bulbs must achieve a minimum efficiency of 45 lumens per watt"1 and was to lead the eventual phasing out of incandescent and halogen light bulbs.
The Energy Independence and Security Act (EISA) of 2007
This act was signed by President Bush on December 19th, 2007 and one of the goals was to "increase the efficiency of products, buildings, and vehicles."2
Stated in the bill were Energy Efficiency Standards for General Service Incandescent Lamps which was defined as a "standard incandescent or halogen type lamp that:
Is intended for general service applications
Has a medium screw base
Has a lumen range of not less than 310 lumens and not more than 2,600 lumen; and
Is capable of being operated at a voltage range at least partially within 110 and 130 volts"3
This bill required "everyday light bulbs [...] to use about 65 percent less energy than the original incandescent bulbs while delivering the same amount of light"1 and was due to become effective in 2020.
However prior to January 1st, 2020, the Trump administration and DOE had a few interjections. The DOE wished to modify the definition when defining general service light bulbs. This change would "increase consumer utility bills by $12 billion—$100 per U.S. household—and require 25 power plants' worth of extra electricity every year."1 Lawsuits were filed against the Department of Energy due to this.
Before this transition took place, another lawsuit formed against the government on behalf of a few light bulb manufacturers and the Trump administration decided to delay these new standards. However, these standards are now set in place and moving forward due to the Biden Administration and thus will begin the phase out of less efficient incandescent light bulbs.
The Newly Implemented Light Bulb Efficiency Standards
While many manufacturers and resellers have started to phase out prior to these standards and the new rules that were delayed in 2020, "nearly all major retailers are still selling incandescent or halogen incandescent bulbs."4 Even with the phase out, companies are still able to, until 2023, import noncompliant bulbs and retailers are able to sell them, but they are no longer able to be created with the new standards.
NRDC energy efficiency advocate Joe Vukovich stated that implementing these standards "will result in annual utility bill savings of $3 billion for consumers and prevent 222 million tons of dangerous, climate-warming carbon pollution over the next 30 years, that's equal to the annual greenhouse gas emissions of over 48 million vehicles."5
The standards implemented requires "that bulbs produce at least 45 lumens per watt"4 and that the "new efficiency standard covers not only pear-shaped A-type bulbs but several other common types, such as reflector bulbs used in recessed and track lighting, candle-shaped bulbs used in wall fixtures and other decorative light fixtures, and globe-shaped bulbs often installed in bathrooms."4
Benefits of Implementing These Standards
Outside of energy efficiency and contributing to the reduction of carbon pollution, a few additional benefits arise from these standards. The DOE predicts "consumers to save nearly $3 billion per year on their utility bills."6 This includes the everyday customer as well as schools and businesses. Thousands of jobs were also deemed to be created in relation to "design, test, and produce the next generation of energy-saving light bulbs."1
With this change from incandescent and halogen bulbs to LED bulbs, the above benefits are provided but the quality as well does not seem to change and actually improve as LED's "provide equivalent light, are dimmable, reach full brightness instantly, and last up to 25 times longer"1 as well as lowers energy bills.
What This Means for Lighting Manufacturers
With the implementation of these new standards, lighting manufacturers can expect an increase in the amount of LED lamps that are purchased over the next few years. For those customers who were previously purchasing incandescent and halogen bulbs, their main focus will be on finding LED's showcasing similar features including color, dimming, and dim to warm technologies.
Producing similar products to those that are being phased out is key to gaining the benefits of the energy efficiency of LED while maintaining loyal customers.
S
ources
1 National Resources Defense Council Fact Sheet (November 2019)
2 EPA: Summary of the Energy Independence and Security Act
3 PDF of the Energy Independence and Security Act, from U.S. Government Printing Office (GPO)
4 ACEEE: U.S. Light Bulb Standards Will Cut Utility Bills and Climate Emissions
5 NRDC: DOE to Implement Overdue Efficiency Standards for Light Bulbs