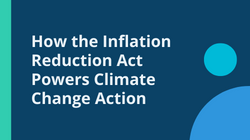 Last month, we published a statement endorsing the Inflation Reduction Act, which includes the largest investment in clean energy in United States history. At that time, the focus was on the big takeaways, such as changes to tax incentives and what kind of funding each sector was getting. However, more detailed looks at the impact that the climate measures included in the bill are being discussed every day.
In the executive order on the implementation of the energy measures in the bill, the White House states that these measures will help drive the reduction of greenhouse gasses to 50-52% below 2005 levels, with a goal to reach net-zero emissions by 2050. This puts into further context the significance of climate legislation and why, even a month after its passage, it remains a primary topic of conversation. As it relates to the commercial sector, here are a couple of broad takeaways about how the IRA works to lower GHG emissions.
Many of the boosted incentives that encourage investment into clean energy solutions will be valid until at least 2033. This scope allows for not only conscious retrofits of energy efficiency products, but also incentivizes replacing older fixtures with their more efficient counterparts as things age out over the next decade.
The new incentives for commercial entities also help to reach groups previously left out of pushes for building upgrades. There are a number of inclusions directed towards low income communities, who have historically been left out of clean energy legislations. The expansion of the 179(D) tax credit, in addition to increasing the credit amount, now allows for designers who work in places like non-profit and Tribal Government buildings to claim the credit in addition. By making resources more widely accessible, this is another way that the IRA helps to decrease GHG emissions.
With the potential for the IRA's climate measures to have a huge impact on society, some climate advocates are asking: what's next? The IRA is the first large climate measure taken by the Biden administration, but it's shaping up to be just the beginning. Its initial success has spurred further initiatives. The Environmental Protection Agency released new emissions standards for heavy trucks in March, which they are looking to strengthen in December thanks to the Qualified Commercial Clean Vehicle tax credit in the IRA. Recent news from the Department of Energy summarizes an agreement between four government agencies to work to reduce emissions from the transportation sector, which produces the most greenhouse gas emissions of any domestic sector. More definite information surrounding this initiative will be forthcoming by the end of the year. Broadly speaking, it is clear that the IRA has empowered a further push into energy efficiency. It remains to be seen what other measures will be taken for commercial and industrial spaces, but we will be monitoring policy changes as they develop.