Encentiv Energy is inviting utility companies, manufacturers, and energy efficiency service providers to explore its new and completely redesigned website which offers greater insight into the company's revolutionary technology solution for the energy efficiency rebate and financing industry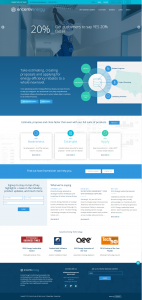 Pittsburgh, PA, November 15, 2016– Encentiv Energy which develops technology to automate and optimize the energy efficiency rebate and financing process announced today the unveiling of a newly redesigned website, www.EncentivEnergy.com. Key features include a more engaging user experience and a more attractive and clean design with effortless navigation. As well as introducing all the key features of Encentivizer platform, the website has been developed with responsive design, adapting its display for optimal viewing on any device.
"We are really excited about the launch of our new website and the information it provides for potential customers, investors and partners to better understand Encentivizer's best-in-class energy efficiency rebate and financing technology," said Lee Levitt, Chief Revenue Officer.
The main goal of the new website is to provide visitors with an easier way to learn about Encentiv Energy and the customized solutions they offer their clients. Users will get a more comprehensive understanding of the company's innovative technology solutions – they will see the entire suite of Encentivizer technology products and the value they bring to their business.
"We believe the new site allows visitors to have a very informative experience as we grow and increase our market presence. The website is a big part of our overall digital strategy and represents an important piece of our long-term growth plan," Lee Levitt, Chief Revenue Officer said.
Encentiv Energy's new website will be updated regularly with news on product launches, industry highlights, and much more. Visitors are encouraged to explore the website and sign up for direct emails from Encentiv Energy at https://blog.encentivenergy.com/news