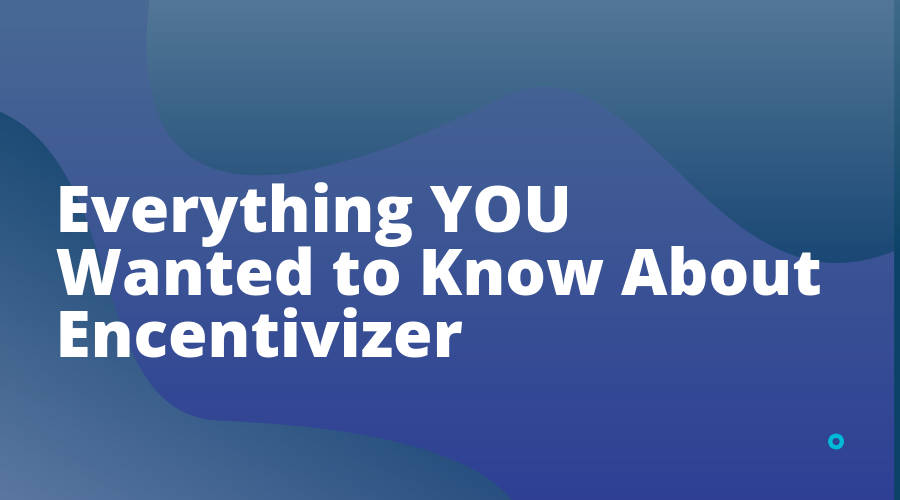 A complete introduction to what Encentivizer® is and—more importantly!— what it can help you achieve.
You already know that access to utility rebate and program information is difficult and sometimes impossible to find…but do you have access to the right tools to make it happen?
You may be able to find some of this information on your own or maybe you created a homegrown tool to help provide it to your customers. Across the industry we always hear questions about this.
Do my distributors even care about rebates? Where can I find all this information and make sure I'm not missing anything? How can I provide this information to help sell more products? Why does my company need to provide this information? How can I get access to this in one place?
Encentivizer helps with all these questions. Let's show you how.
What is Encentivizer?
Encentivizer is a suite of tools that helps LED manufacturers (ecommerce and non-ecommerce), utilities, and energy efficiency professionals access or provide utility rebate estimates and program information for qualified products.
"Whether someone needs a quick rebate estimate, to see if a certain product qualifies for a rebate, or an energy analysis to include in a proposal, Encentivizer is the easiest and fastest way to do that," Steve Moritz, Encentiv Energy's President & CEO.
The Encentivizer Database is the main component that powers each product.
Utility Information
Over 3,200 utilities in the United States and Canada that are analyzed and updated daily. Program details, including program timelines and eligibility requirements.
Rebates + Incentive Calculations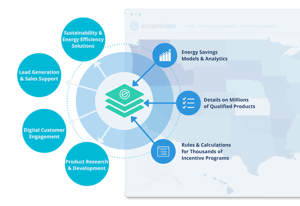 Tens of thousands of unique incentive calculations for midstream and downstream commercial + industrial programs. Eliminates manual rebate calculations that would take
hours to complete and quickly find available rebates to include in ROI calculations.
DesignLights Consortium® & ENERGY STAR® Product Catalog
Every detail you need to know on hundreds of thousands of qualified LED products.
Encentivizer for Lighting Manufacturers
Show the benefits of an LED upgrade in an instant and support your sales channels like never before.

There are many thoughts in the industry when it comes to understanding utility rebates and programs. However, the majority of agents and distributors do not know or understand programs in their backyard. Programs are seen as being complex, difficult, and challenging. In fact, 87% said that rebate applications are extremely difficult to follow and file.1
Lighting manufacturers can use the Encentivizer Catalog and Payback Widgets to give their entire sales channels (agents, distributors, internal sales teams) and customers access to quickly find their ENERGY STAR® and DLC® qualified products and rebates for their catalog in their area, with a whole lot less work. They can include this information in ROI calculations and present a better quote package by showing how utility rebates can reduce the upfront cost of upgrading and improve ROI over the life of LEDs. Using rebates and energy savings in proposals will help break down barriers and close sales faster. Rebates also give sales teams the resource to generate all this information that will help guide their value-driven sales pitch and show that LEDs are a no-brainer.
Provide your product cut sheet and a real-time screenshot of the product listed on the DesignLights Consortium® QPL all in one place. These documents are needed for utility rebate application submission. Use links to improve the user experience by linking directly to a utility program's website so they can easily find the exact page and get the requirements they need for submission. The links are updated and maintained by Encentiv Energy, in fact all the data for your entire product catalog is maintained by Encentiv Energy!
Your website will be the go-to source for utility rebate estimates and program information. And you can see who is using your widget, then easily take the next step and share this data with your sales team so they can follow up. Include a DLC® icon on the widget that allows users to capture a real-time screenshot of the DLC® listing without leaving your site.
In the reporting dashboards you can see detailed metrics on all Catalog Widget activity and performance. Spot trends and see user activity such as - which products they are searching and which utility.
You can also add rebate estimates for integral controls + details on how Networked Lighting Controls (NLC) rebates are calculated.
Utility rebates cut down the upfront cost and energy savings provide the long-term impact on their utility bill. Give your sales team the resource to generate all this information that will help guide their value-driven sales pitch and show that LEDs are a no-brainer.
The Payback Widget allows users to enter a project scope line by line and see a full scope at the click of a button. Enter information about existing fixtures, fixture type, new category, new product, quantity, hours, wattage, and product price to get an overview of the project. Enter a US zip code or Canadian postal code, select utility, and enter your electricity rate or use the pre-populated average commercial + industrial rate for your utility.
See the Payback period chart, with an overview of equipment cost, annual kWh savings, cost of waiting, rebate estimate, time to payback, time to payback with utility rebate. Dynamically updated as you continue building out a project.
Users can download a four-page summary to include in their proposal or quote package of all the savings they'll see from an energy efficiency upgrade, including: payback period, ROI, energy savings, utility rebates, and environmental impact.
See the difference in ROI and payback period when a utility rebate is included versus when it's not. See the full kWh savings of a project based on your utility's average commercial + industrial electric rate.
Encentivizer for Utilities
Utilities can improve engagement with customers by providing easy-to-use resources that will help them understand the benefits of energy efficiency. Encentivizer™ can be directly integrated into a website to help engage with customers, providing them with information they need regarding rebates, ROI, and project financing options - tools that take customers from research all the way through to rebate submission. It creates a seamless experience that will make utility rebates more accessible to everyone.
Encentivizer provides unparalleled customer engagement. By giving users the necessary documentation they need at their fingertips while they're researching the utility rebate program, so they can get started right away. Educate them with an energy savings analysis that goes beyond the utility rebate. Encentiv Energy integrates with the DLC® and ENERGY STAR® qualified product lists, including all the necessary specifications to qualify the rebate.
Reduce program costs by allowing customers to see accurate program information and rebate estimates in real-time, and submit them to you on their mobile device. Rebate information and integrated product lists reduce errors so that applications can be final approved quickly.
Encentivizer for Energy Efficiency Professionals
When scoping a project, contractors, ESCOs, project teams, or pretty much anyone that does project work or rebate submissions struggles with rebate and program information.
Estimate energy efficiency rebates for any utility in the US or Canada without spending time navigating complicated utility programs. Evaluate rebates for a single project scope or take an average scope and estimate rebates across an entire site list. It's never been easier or faster to estimate utility rebates. We have the rules and requirements for every utility, so you'll also be able to make sure you're taking all the necessary steps to get a rebate.
The Project Estimator tools are built on the Encentivizer Database, giving you access to everything you need when it comes to energy savings, utility rebates, and program details.
Every utility rebate program has a different calculator with different inputs required to come up with a rebate calculation. Don't spend time filling out all that information just for an estimate. This one tool can estimate rebates for any utility with far fewer inputs. Assemble all the necessary documentation for rebate submission, except for the invoice.
Provide customers with a summary of all the savings they'll see from an energy efficiency upgrade, including: payback period, ROI, energy savings, utility rebate, and environmental impact.
See the difference in ROI and payback period when a utility rebate is included vs. when it's not and see the full kWh savings of a project based on your utility's average commercial + industrial electric rate.
Select from a list of DLC and ENERGY STAR products, so you know they're qualified. Click an icon to capture a real-time screenshot of the product listed on ENERGY STAR® or the DesignLights Consortium QPL.
Encentiv Energy revolutionized the energy efficiency industry with the introduction of the Encentivizer Platform technology. Today, Encentiv Energy is leading the innovation of accelerating and transforming how people access utility rebate estimates and program information — empowering users with the digitization of all the data across the U.S. and Canada, sales enablement, and providing a seamless experience across the entire Encentivizer Platform and Mobile App.
Ready to start using Encentivizer?
Get started and start learning how you can access or provide this information in an easy, fast way.
Source: