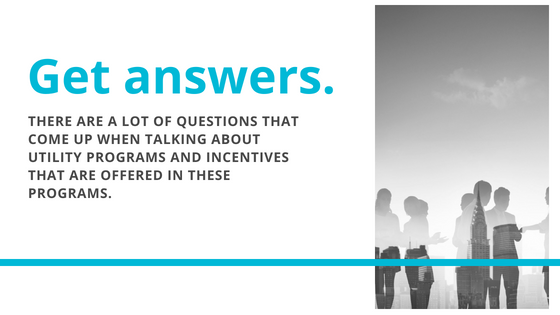 There are a lot of questions that come up when talking about utility programs and incentives that are offered in these programs.
Questions such as:
What documents do I need to submit with the application?
What is the difference between listed wattage and tested wattage?
What information do I need to have ready for submission?
Is there an easier way?
Prior to submitting for a rebate there is a lot of work that needs to be done. On top of that, each utility's submission portal is highly specific and customized and your internal process may not line up with how the utility is requiring information about your projects. For example, if you take your current audit process, you may be missing something specific that a utility requires: the number of fixtures in a certain zone; detailed location; varying levels of specificity; or commercial zoning type. Certain online portals may require you to have all the project information at once and won't allow you to save a draft of your work until this point. You may not even be able to see all the screens during the submission process and you may not have some information they are requiring and then you'll have to start all over again.
Another confusing part is listed wattage versus tested wattage. (Here's the difference: tested wattage is the number the DesignLights Consortium® uses from the test reports and listed wattage (also referred to as reported wattage) is the wattage that the manufacturer advertises on the fixture. Keep in mind that different programs will set the requirement for their program. The DLC® lists both tested wattage and listed wattage - it's sometimes unclear what the utility wants.
One of the trickiest gotchas we've seen is that depending on what you're inputting, there are always issues with model numbers. Some utilities want generic codes, some want specific model numbers, and DesignLights Consortium and ENERGY STAR® codes aren't always the same on the cut sheet. Since each utility refers to existing fixture codes to reference old fluorescent or metal halides, chances are they are different than what your audit software uses (if you use one of course). And this proves to take an enormous amount of time.
Once the submission process has been completed and is under review, a specific known issue regarding discrepancy of model numbers can arise. If the utility is trying to verify model numbers for DLC eligibility, but the model number on the application is different than the model number that is needed to search the DLC QPL this can delay application processing, but the application may not always specify that the DLC model number is needed. The utility will usually contact you to let you know. Once you provide the information they need, your application can go back into the "reviewed queue" or pick up processing where it left off.
While there is not an easier way to submit applications right now, we believe in the near future there will be. We feel your pain when it comes to submitting rebate applications and that's why we're working to solve this problem for both you and the utilities.
Our vision is to develop an integrated workflow from the audit process directly to the utility database with all required information. We believe there is a better way to connect utilities with you and we can provide a consistent utility application submission experience across every utility in North America.
The solution to this problem would provide validation, flexible fill-out, no double entry (it would be tied directly to an audit tool), and it would provide a consistent utility application submission experience.
While this won't happen overnight, it will be worth the wait. The long-term benefits to you, utilities and everyone that manages or participates in utility rebate programs will be positively affected. The journey has already begun and we can't wait to share the results!
Follow us on Twitter for product announcements, major utility program updates and more!