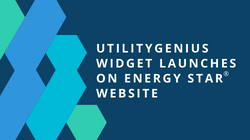 Starting on August 16th, utility rebate information for products specific to commercial and industrial buildings will be available on the U.S. Environmental Protection Agency's ENERGY STAR® website through a new partnership with UtilityGenius, North America's leading place for commercial and industrial rebate research. The partnership will bring UtilityGenius's full search functionality to ENERGY STAR's website, making it easy for commercial and industrial users to find the utility rebate information they need in one place.
"Rebates for efficient commercial equipment can help building owners and managers make deeper investments in energy efficiency," said Cindy Jacobs, chief of the ENERGY STAR Program for Commercial Buildings and Industrial Plants. "By making their UtilityGenius commercial and industrial rebate finder tool available on the ENERGY STAR website, Encentiv Energy makes it easier for owners and managers to find these rebates and save energy, save money, and protect the environment."
UtilityGenius, powered by Encentiv Energy, simplifies the rebate journey. A database with up-to-date commercial and industrial rebate information for the 3,000+ utilities in the United States and Canada allows users to search by zip code, state, or utility name quickly and easily. Rebate estimates are tracked for a variety of technologies, including lighting, HVAC, building controls, electric vehicles, and more. Users can also research rebate-eligible products within the platform to ensure that they don't miss out on potential rebates.
"The major barriers to upgrading buildings with more efficient products are affordability and lack of awareness," said Steve Moritz, president and CEO of Encentiv Energy. "This partnership will allow us to reach more people with information about rebates, help them find the most energy efficient technology available, and where eligible products can be purchased. By making the journey as simple as possible, we're enabling people to choose more efficient alternatives for their projects."
The widget can be found in the "Finance Energy Efficiency Projects" section of the ENERGY STAR website.
Update 8/23: Join the UtilityGenius team on September 8th at 12pm for a joint webinar with ENERGY STAR: "Find Rebates on Commercial Building Equipment." Register here.
About ENERGY STAR
ENERGY STAR® is the government-backed symbol for energy efficiency, providing simple, credible, and unbiased information that consumers and businesses rely on to make well-informed decisions. Thousands of industrial, commercial, utility, state, and local organizations—including nearly 40 percent of the Fortune 500®—rely on their partnership with the U.S. Environmental Protection Agency (EPA) to deliver cost-saving energy efficiency solutions. Since 1992, ENERGY STAR and its partners have helped American families and businesses avoid more than $500 billion in energy costs and achieve 4 billion metric tons of greenhouse gas reductions. More information about the impacts of ENERGY STAR can be found at www.energystar.gov.
About UtilityGenius
UtilityGenius is the leading place for commercial and industrial utility rebate information. As part of Encentiv Energy's mission to make energy efficiency accessible and affordable, UtilityGenius is available online for free. Quickly and easily research utility rebate programs and get rebate estimates for energy efficiency projects in commercial and industrial buildings. Users can search for information in the United States and Canada by zip code, postal code, state, or product category in one place. Users can even find rebate-eligible products in the tool to make research simple and ensure no one misses out on potential savings. Get started at www.utilitygenius.com/.