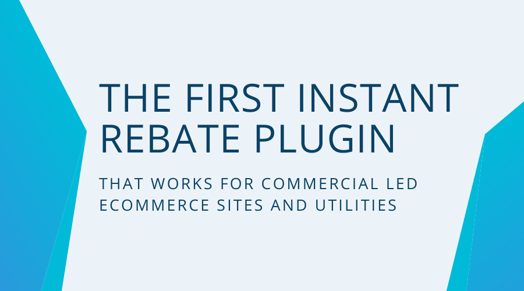 To say that ecommerce is growing rapidly in the C&I lighting space is an understatement. 54% of online electrical suppliers are in the beginning ecommerce stage. Fifty-four percent!
The adoption rate of ecommerce in distribution soared in 2020 with a weighted +26% increase from 2019 to 2020.1 And let's face it, the covid pandemic has just sped up this shift to online buying in the commercial space.
Whether you're a utility or a distributor, wholesaler, or manufacturer that sells online, creating a "buyer centric" experience should be to make it as easy as possible for the buyer to complete their journey. In this case, all online, without any paperwork to fill out with a way to still meet the utilities' program guidelines and requirements.
Let's take a quick look at the growth rate of ecommerce sales in the B2B space. Now, don't forget, current buyers, who, like you, have had their buying habits reprogrammed since ecommerce started in the late 90s (looking at you Amazon). So to say the least, the B2B space needs to catch up to what we're experiencing right now with ecommerce on the B2C side – including taking into account the short attention spans of buyers and limited time to complete a purchase.
Growth rate of ecommerce sales
19%

Deloitte research projecting YoY growth in B2B ecommerce of 19 percent is faster than projected growth in B2C

54%

Of online electrical suppliers are in the beginning ecommerce stage

>8%

The historical growth rate of online lighting sales prior to 2020
There is no large-scale solution available to etailers or utilities today to engage online sales
Understanding that ecommerce is the future for lighting and other commodity products means program administrators (at utilities) need a solution at the point of sale online for customers purchasing anywhere in the country so that ecommerce sites can offer instant rebates in the cart much like they offer midstream rebates at the counter today.
As an ecommerce site owner, how can you provide a positive touch point with your commercial customers and communicate the value of efficiency right where your customers are making purchasing decisions?
The good news
Offering instant rebates for energy efficient equipment on commercial ecommerce sites is a great way to effectively guide the buyer through the journey and give them urgency to checkout. Ecommerce instant rebates offer a way for ecommerce retailers to shorten their online sales cycle, give site visitors and customers a great online experience, and drive repeat sales.
Utilities can provide their commercial customers with instant rebates where they shop online while simultaneously addressing critical program design challenges such as awareness, attribution, and influence.
Using a plugin on an ecommerce site will give the site owners and the utilities a way to offer instant rebates for qualified products right where transactions are happening – all while increasing energy program performance.
Until today, this solution didn't exist. Encentiv Energy is bringing alignment to utilities and C&I ecommerce stores to be able to offer an easy and simple way to bring instant utility rebates to the entire online buying journey through a plugin.
Looking for more insights on ecommerce instant rebates?
If you work at a utility company or are an implementer for a utility program and want to learn more about why you should start providing C&I customers with instant rebates online, while addressing program design challenges (awareness, attribution, and influence) – or even how you can start? Download the ebook (no form required, it's a direct download) "Reaching the Other 50%: Why Utilities Are Missing Half of Commercial Buyers (And How You Can Fix It)." Or you can learn even more here.
If you own or manage a commercial lighting ecommerce store and want to offer instant utility rebates in the cart to accelerate checkout and shorten your online sales cycle, learn more here.
Sources
1 2021 State of eCommerce in Distribution: Part 1: A Rapid Rise in Adoption & Maturity; By Dean Mueller & Jonathan Bein, Ph.D.