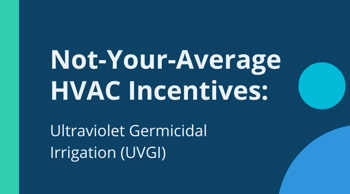 In our second article about other HVAC incentives, we will cover a technology that is being newly incentivized by utility rebate programs. However, the technology itself has been around for a while...ultraviolet lighting.
For our analysis, we will again rely on our UtilityGenius database for incentive information. In this case, we will refer to the UtilityGenius category of Ultraviolet Germicidal Irradiation (UVGI)
Ultraviolet Germicidal Irradiation Background
Ultraviolet germicidal irradiation (UVGI) is not new technology. It has been around in commercial applications for almost 100 years. UVGI has been used for decades to purify air in hospitals and labs that need to ensure microbes aren't introduced or distributed by the ventilation system. UVGI is also used in a less intense installation to keep cooling coils clean and free of biofilms. UVGI can be used in-room as part of an upper-room disinfection system, portable air cleaner, or surface disinfection. The history and means of using UVGI for pathogen control in building ventilation systems and rooms is well-documented. Along with fresh air ventilation and filtration, UVGI is one of the best proven technologies for removing pathogens from the air, including COVID-19.
Utilities' incentives for UVGI so far have been limited to a very specific application: to eliminate air-borne pathogens in HVAC ductwork. The energy savings case appears to be that UVGI is more energy efficient than other approaches for high intensity ventilation which generally involve conditioning more outside air.
US Department of Energy (DOE) and UVGI
The DOE is currently studying this technology and investigating product certification standards. The Department's current viewpoint on UVGI, referred to here as Germicidal Ultraviolet Disinfection, is summarized as follows:
"Emerging GUV technologies represent an opportunity to realize additional energy savings through fixture design and application practices while maintaining the germicidal benefits. Currently, LED GUV sources and fixtures have relatively low efficiency and lifetime but there is headroom to improve through increased source efficiency, improved fixture design, and enhanced reliability. In conjunction with proper ventilation and filtration, GUV is a promising technology for providing optimal IAQ to building occupants."
The DOE and the Pacific Northwest National Laboratory (PNNL) are working on a product testing methodology with their system called CALiPER. One of the potential outcomes is a product registry for UVGI products. PNNL is looking for UVGI installations to be able to perform a field evaluation study.
Utility Incentives
The incentives for UVGI are very new with a limited number of utilities offering incentives at this point. The following states have utilities that are offering UVGI incentives; utilities in these states are mostly members of multi-utility programs:
Alabama

Arizona

Georgia

Iowa

Kentucky

Minnesota

Mississippi

North Carolina

North Dakota

South Dakota

Tennessee

Virginia

Wisconsin
The design of the incentives are generally based on the tonnage of the host HVAC system. So far, they are generally running between $8-$30 per ton. There are also a handful of programs who incentivize the UV lighting based on the wattage of the lights themselves.
There is a lot of current research and DOE activity around UVGI and energy efficiency. As the energy savings models mature and more field study proves the healthy air and energy efficiency benefits of this technology, we would expect to see more utilities offer incentives in the future.