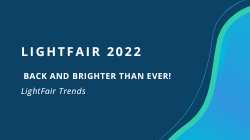 LightFair 2022 took place in Las Vegas last week, and there was no better place than the City of Lights for the biggest show since 2019. With more than 300 exhibitors and thousands of attendees, there was plenty to take in. Our team spent three days meeting new and old partners face-to-face, some for the first time. We kicked off the show with two exciting announcements. UtilityGenius's new integration with Retrolux, a platform that streamlines retrofits, will allow users to search rebates quickly within the Retrolux platform. Then, just before the show began, we officially launched EV rebate tracking in UtilityGenius for both chargers and vehicles. It's easy to see why one visitor called our booth the most excited they were all of LightFair.
The big news around LightFair was DLC 5.1 and how manufacturers were adjusting to the change. It seemed that most already had a game plan for how they would ensure their products remain listed. While many products that no longer fit requirements will be delisted on June 30th, many utilities are offering grace periods so that these products remain rebate-eligible and manufacturers have more time for next steps. We've been keeping a list of utilities that are offering these extensions, but be sure to reach out to your utility provider for specifics.
We also saw the continued trend of sustainable technologies throughout the show. For many projects, reducing energy consumption remains a priority. We've seen exhibitors in the past displaying their energy-efficient LEDs. This year, we saw these products in addition to contractors and manufacturers alike asking more questions about controls, solar, and electric vehicles. This highlights how lighting personas across the board are looking to expand their sustainability goals into additional product markets.
In addition to sustainability, we saw a renewed emphasis on diversity and inclusion on the LightFair floor. Organizations like NACLIQ and WILD hosted networking events and gave talks about the experience of different identities in lighting. As we look towards an increasingly diverse future, amplifying these voices in the lighting industry is something that we can all learn from.
There was lots of excitement to be seen at this year's LightFair. It seemed like the trend that stood out the most was the joy that lighting personas across the industry had at being in person again. All around the show floor, we saw the power that face-to-face interactions hold. If we didn't get to see you this time, we hope we will soon!