It's not often you get an opportunity to witness a meaningful peer-to-peer event in your industry – an unscripted, thoughtful, open and honest exchange about some of the most important and timely challenges facing the participants in all segments of the energy consumer world. At the EEI National Accounts Workshop in Minneapolis on October 25, I was lucky enough to be a fly on the wall – along with 200+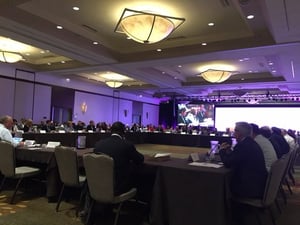 other conference attendees – and hear from National Account energy managers, utility EE program managers, utility commissioners and consumer advocates. The agenda called it a discussion on the challenges and opportunities facing this group of National Account leaders like Cinemark, Staples, Best Buy, Target and McDonalds, and how the utilities, regulators, service providers and manufacturers are playing key roles with smart technologies, grid modernization, and efficiency and sustainability regulations. What actually happened was more than I think anyone expected.
The stage had been set earlier in the day by David Owes, Executive VP at EEI, when he outlined the EEI's view of the industry's customer-driven vision – to strike a balance between reliability, sustainability and affordability. He then asked everyone in the room – customers, utilities, service providers, manufacturers – what can each of us do to help achieve the vision. The conversation started with sustainability, renewables and energy efficiency programs….and two hours later was still going strong.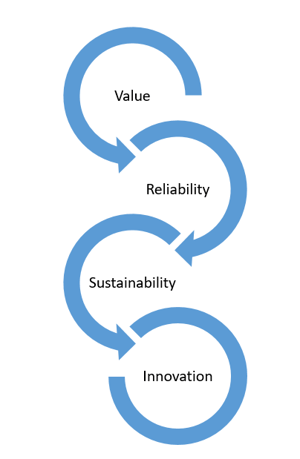 From the national account customers' perspective, "customer choice" has taken on a whole new meaning. It's not the traditional market dynamic of 3rd party suppliers and strategic buying strategies, but today, choice means
making decisions on what renewable strategy best fits their corporate governance
where, when and how to best deploy capital, based on the most customer-friendly, active, consistent and valuable energy efficiency programs
what technologies to deploy based on system protocol, ease of integration and cost
where to locate new locations or acquisitions, based on utility costs and reliability/risk exposure
The utilities, regulators and consumer advocates heard the national accounts loud and clear, and appear to understand that they need to break from the traditional utility model. They need to be cutting edge in the world of advanced technology, data, analytics, customer service, security and reliability. But at the same time, they stressed the point that this call for customer value cannot be provided for the marquee national accounts at the cost of other customers and customer segments.
As a SaaS provider, it is encouraging to hear so much attention being paid to energy efficiency programs. As we continue to develop a better and more robust platform that provides nationwide energy efficiency awareness, rebate estimate and application processing, integrated into the work-flow of the trade ally network, these types of open dialogues go a long way to justify our commitment to the industry and our customers. For the industry, it was great to see such a strong sense of synergy and passion for the cause.