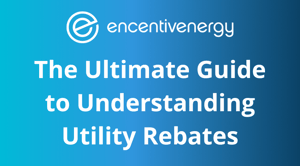 Utility rebates can be complicated. At Encentiv, our mission to make energy efficiency accessible, affordable, and actionable starts with eliminating barriers to taking advantage of resources like utility rebates. That's why we've created a guide to utility rebates that covers the information you need to know. Whether you're just getting started with utility rebates or looking for a quick refresher, this is the guide for you.
In the guide, you'll find:
An overview of different kinds of utility rebate programs.
Different requirements that programs may have that you should keep in mind when navigating your utility's program.
Information about the application process, including what paperwork programs may require.
Tips on including rebate information in your proposals and how to use that information to close more deals.
Download the full guide here. Still have questions? Leave a comment down below and we'll connect you with someone on our team to help!