New Awareness UI, Enhanced Financing Options for Portfolio Awareness & All-New Lighting Controls Rebate Information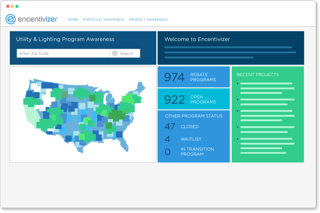 Pittsburgh, PA, November 16, 2016– Encentiv Energy announced today that they have made significant updates to their Encentivizer platform. Users will experience an improved interface for www.awareness.encentivizer.com, have access to financing solutions – such as PACE and On-Bill – and their geo-map locations through the Encentivizer user experience.
A redesigned interface streamlines the Awareness experience. Users can expect to increase productivity by having immediate access to rebate information, such as: when programs open or close, program status, pre-approval requirements and much more.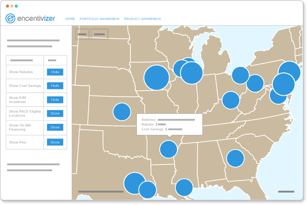 The new lighting controls rebate information turns Encentivizer XL into a powerful tool that can estimate available rebates for lighting controls on a product level. Users can review rebate data and make informed project decisions, easily translating the information into proposals and get answers to project scope changes within minutes.
Availability
The new user interface for Awareness and financing enhancement are being rolled out in 2016 Q4. For more information visit: http://www.encentivenergy.com/platform/encentivizer/
Encentiv Energy, is a SaaS company in the energy rebate and financing market. The Encentivizer technology, developed by Encentiv Energy, is the only comprehensive cloud-based software that allows you to access rebate data in real-time for of all North America. Connect your projects with the most complete, up-to-date set of rebate programs, project financing options and qualified products right now.